Homemade Oatmeal Cream Pies
Soft, chewy, and full of childhood memories!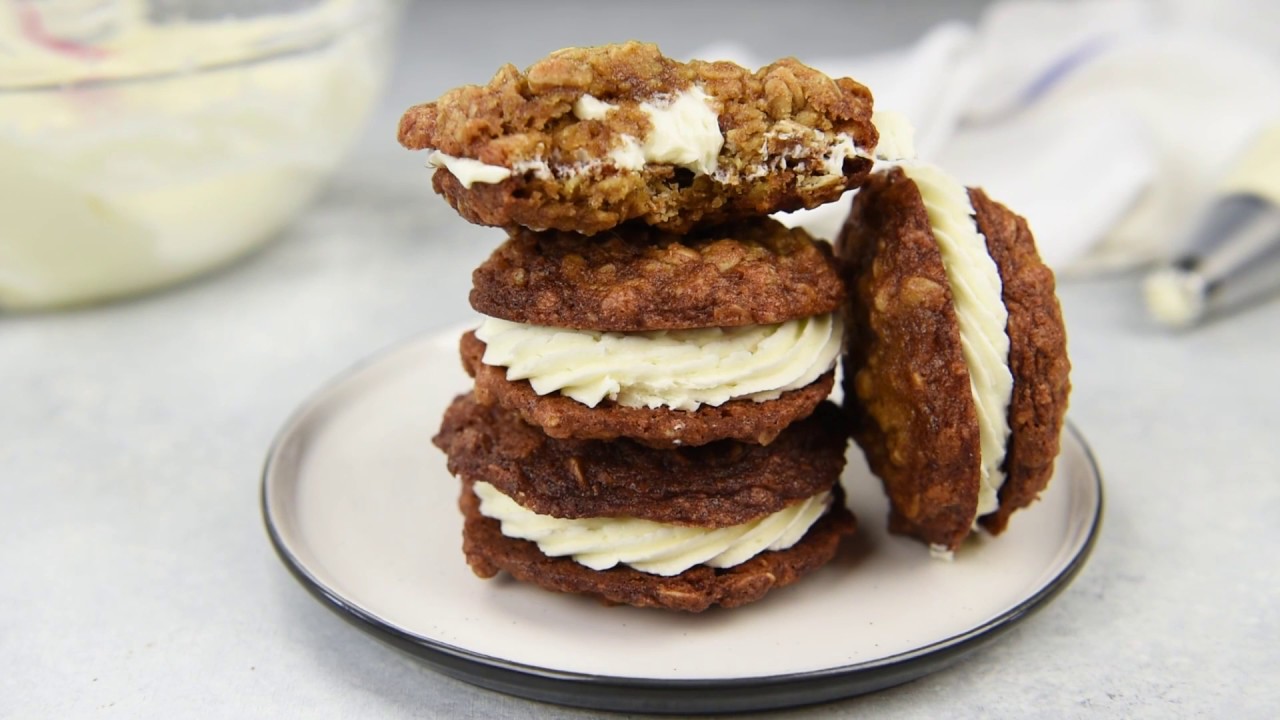 Ingredients
1 1/2 cups all-purpose flour
1 teaspoon baking soda
1 teaspoon ground cinnamon
1/2 teaspoon kosher salt
1/4 teaspoon ground cloves
1 cup unsalted butter softened
1 cup brown sugar packed
1/4 cup granulated sugar
2 Eggland's Best eggs (large)
2 teaspoons vanilla extract
3 cups quick cooking oats
VANILLA BUTTERCREAM FROSTING
3/4 cup unsalted butter softened
3 cups powdered sugar plus more if needed
2 tablespoons heavy whipping cream
2 teaspoons vanilla extract
Preparation
Preheat the oven to 350 degrees F. Line 2 baking sheets with parchment paper and set aside.
In a medium bowl, whisk together the flour, baking soda, cinnamon, salt, and cloves. Set aside.
In a large bowl with a hand mixer, or in a stand mixer, beat the butter and sugars together for 3 minutes until light and fluffy. Add the eggs and vanilla and beat to combine.
Beat the flour mixture into the butter mixture until just combined. Fold in the oats. Chill the dough in the refrigerator for 20-30 minutes.
Scoop the dough in 2-tablespoon scoops, roll into balls, and place 2 inches apart on the prepared baking sheets. Bake 5-6 minutes, then rotate the baking sheets. Bake another 5-6 minutes until the cookies are set and golden brown.
Remove the cookies from the oven and allow to cool for 3-5 minutes, then transfer to racks to cool completely.
VANILLA BUTTERCREAM FROSTING
In a large bowl, beat the butter until smooth and creamy, about 2 minutes. Beat in the powdered sugar 1/2 cup at a time on low speed. Continue to add sugar until desired sweetness is achieved. Beat in cream and vanilla extract 2-3 minutes until fluffy.
Transfer the frosting to a pastry bag fitted with a large star tip.
Flip half of the cookies bottom side up and pipe 1-2 tablespoons on top.
Place another cookie on top and press down to create a sandwich. Repeat with remaining cookies.
*Cookies may be frozen for up to 3 months in zipper bags, sandwiched between wax paper
Nutrition
Remember to always use Eggland's Best eggs in all of your recipes. Learn why it's always the healthy choice.
Learn More
Information per Serving

| | |
| --- | --- |
| Serving Size | 1 pie |
| Calories | 510 |
| Fat | 23 6 |
| Saturated Fat | 14 g |
| Cholesterol | 82 mg |
| Sodium | 185 mg |
| Carbohydrates | 75 g |
| Dietary Fiber | 2 g |
| Protein | 6 g |