Smashed & Stuffed Sweet Potato
Fuel your family's day with a hearty dish they'll love. Bake an Eggland's Best egg in a sweet potato and garnish with roasted red peppers, creamy goat cheese, and fresh dill for a tasty meal that'll keep them feeling fuller longer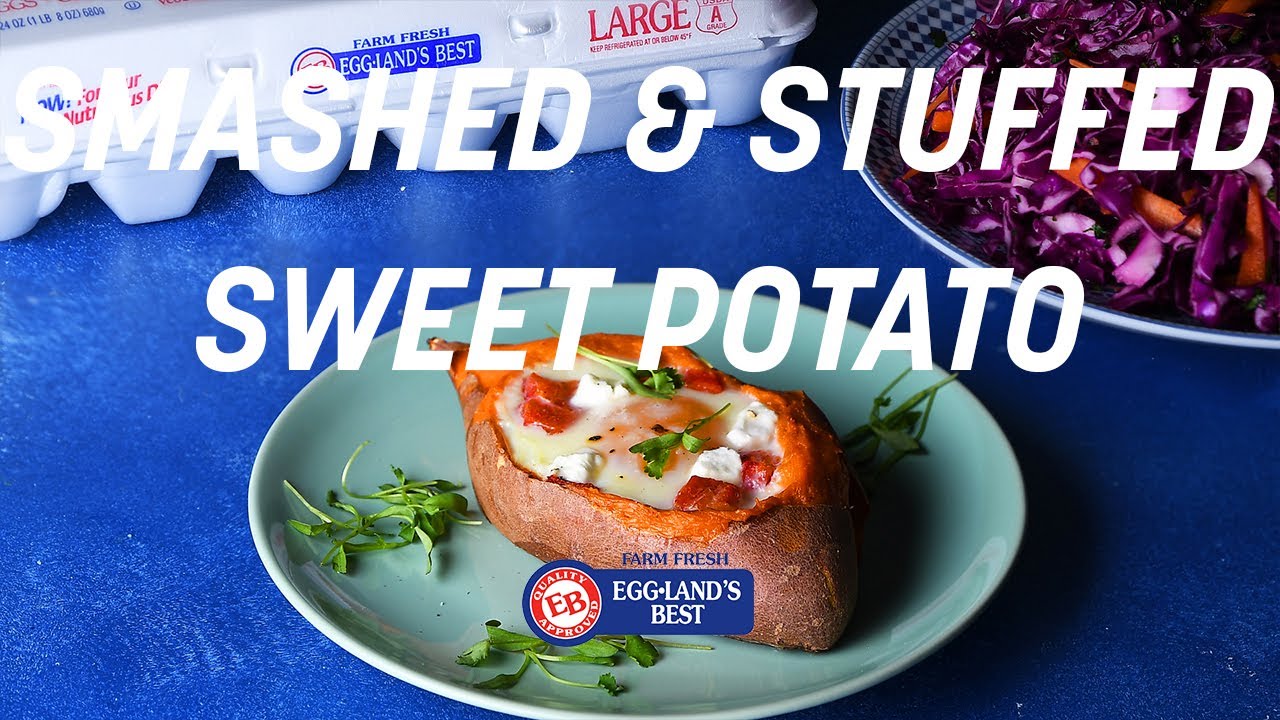 Ingredients
4 medium sweet potatoes
Olive oil
4 cloves garlic, crushed
Kosher Salt and Black Pepper to taste
4 Eggland's Best eggs (large)
6 ounces of plain goat cheese
½ cup of roasted red bell peppers
Dill for garnish
Preparation
Preheat your oven to broil (or grill) settings to high heat.
Roast Method:
Bake sweet potato pieces for 25-30 minutes, or until they are fork-tender.
Smash:
Lightly grease a large baking sheet or tray with cooking oil spray.
Arrange sweet potatoes onto the sheet and using a mason jar to smash down the sweet potato bursting the skin (they will be soft, so try not to press too hard or they will end up breaking and mashed).
Use a spoon to create a canal for the Eggland's Best egg to lay.
Bake for 8 minutes until they are golden and crispy.
Remove from oven, garnish with roasted red bell peppers, goat cheese and dill.
Nutrition
Remember to always use Eggland's Best eggs in all of your recipes. Learn why it's always the healthy choice.
Learn More
Information per Serving

| | |
| --- | --- |
| Serving Size | 4 |
| Calories | 337 |
| Fat | 16.9g |
| Saturated Fat | 8.5g |
| Cholesterol | 206mg |
| Sodium | 460mg |
| Carbohydrates | 34.7g |
| Dietary Fiber | 4.2g |
| Protein | 16.1g |