These egg shaped cake pops are coated with spring colored chocolate and sprinkles. Easter Egg Pops are a perfect kids friendly snack/dessert that can be made with your kids on Easter.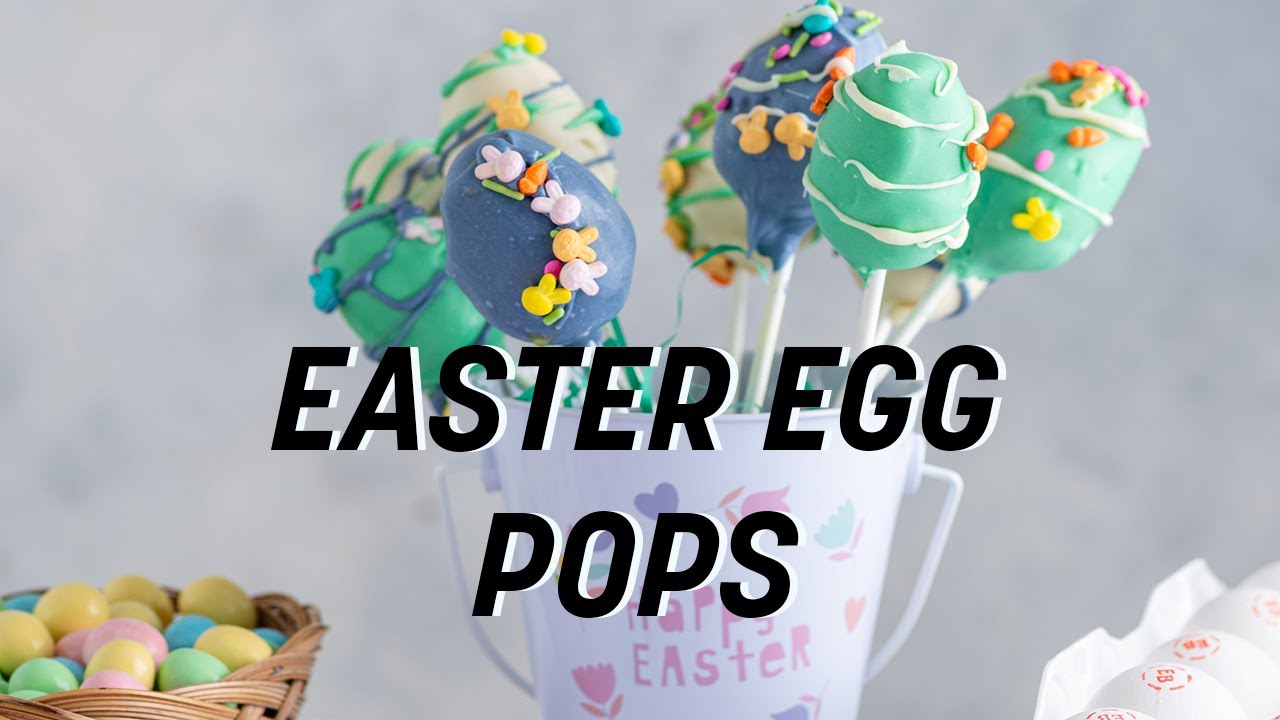 Ingredients
2 cups vanilla cake mix
3 Eggland's Best eggs, large
1 cup water
½ cup oil
1 tablespoon vanilla extract
2 tablespoon buttercream frosting
2 cups white chocolate chips
1 tablespoon coconut oil
Gel colors
spring colored sprinkles, for decorations
Popsticks
Preparation
Preheat the oven to 350°F.
Grease a 9X13 pan and keep it aside.
To a bowl combine cake mix, eggs, milk, oil, and vanilla extract. Mix it well for 2 minutes until the cake batter is well combined. Transfer the batter to the prepared cake pan and bake for 32-35 minutes until the toothpick inserted comes clean.
Allow the cake to cool down and trim the brown parts on the cake.
Break the cake into 4-5 pieces and crumble it in a bowl. Add vanilla buttercream frosting to the bowl and mix it well.
Take a golf ball-sized portion and shape them to egg shape using your hands.
Refrigerate the egg-shaped cake pops for 10 minutes.
Meanwhile, in a microwave-safe bowl melt the white chocolate along with the coconut oil.
Dip the tip of the cake pop stick and insert into the egg-shaped pops halfway and place it on a plate and freeze again for 10 minutes.
Use a gel color to dye the remaining white chocolate and pour them into the glasses.
Dip the cake pops into the colored white chocolate and coat them completely and tap to avoid the dripping of the chocolate.
Decorate the egg pops with sprinkles immediately and place them vertically.
Once the cake pops come to room temperature and the chocolate coating is set, enjoy them!
Nutrition
Remember to always use Eggland's Best eggs in all of your recipes. Learn why it's always the healthy choice.
Learn More
Information per Serving

| | |
| --- | --- |
| Serving Size | 8 |
| Calories | 170 |
| Fat | 9.6g |
| Saturated Fat | 3.2g |
| Cholesterol | 24mg |
| Sodium | 140mg |
| Carbohydrates | 19.7g |
| Dietary Fiber | 0g |
| Protein | 2g |