Fudgy Peppermint Brownies
These extra fudgy brownies are topped with a peppermint cream cheese buttercream, chocolate ganache, and crushed candy canes.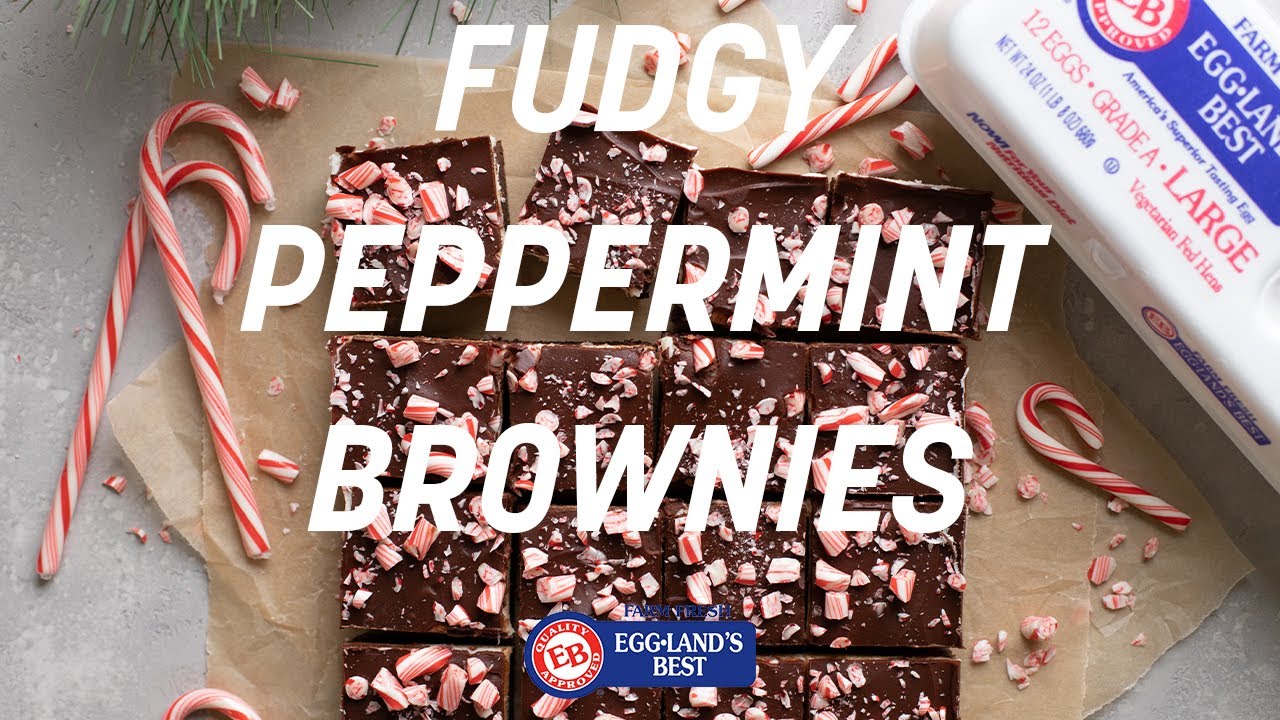 Ingredients
Brownies:
10 tbsp unsalted butter
4 oz dark chocolate, chopped
3/4 cup (150g) light brown sugar
1/2 cup (100g) granulated sugar
1 tsp vanilla extract
3/4 cup (95g) all-purpose flour (or Gluten-Free Baking Flour)
1/4 cup (20g) unsweetened cocoa powder (dark cocoa preferred)
1/4 tsp salt
Peppermint Cream:
1/4 cup (55g) unsalted butter, room temp
2 oz cream cheese, room temp
2 1/2 cups powdered sugar
1 tbsp milk
1/2 tsp peppermint extract
Chocolate:
3 oz dark chocolate, chopped

2 tbsp unsalted butter
1 tsp oil, if needed
4–5 candy canes, crushed
Preparation
Brownies:
Preheat the oven to 350°F and prepare a square 8×8 baking dish. Grease the inside with nonstick spray and line the bottom and sides with parchment paper, allowing some of the paper to hang over the edges.
In a heat-safe bowl, add the butter and chocolate. Melt in the microwave in 30-second intervals until smooth (should take about 60 seconds total). Set aside.
In a small bowl, whisk together the flour, cocoa powder, and salt. Set aside.
In a large mixing bowl, add the brown sugar, sugar, and Eggland's Best eggs. Either using an electric mixer or a whisk, whip the sugar and eggs until they are pale and frothy. It will take a bit of extra elbow grease if done by hand.
Mix in the vanilla.
Dump in all of the dry ingredients and mix until just combined. Do not over mix.
Pour into the prepared baking dish and spread the batter evenly. Bake for 20-25 minutes or until the top appears to be glossy and slightly puffed. If you used unsweetened chocolate, the top will be more matte. Don't over bake.
Allow the brownies to cool completely. Leave them at room temperature for 20 minutes, then transfer to the refrigerator to continue cooling uncovered for about 1-2 hours. Only spread on the buttercream when the bottom center of the pan is completely cooled.
Peppermint Cream:
Using an electric mixer, cream together the butter and cream cheese.
Once smooth, mix in the powdered sugar 1 cup at a time. In between cups, mix in the milk and peppermint extract.
Spread in an even layer on top of the cooled brownies. Place the pan in the freezer for at least 30 minutes to allow the buttercream to set before adding the chocolate on top.
Chocolate:
In a heat-safe bowl, add the chocolate and butter. Melt in the microwave in 30-second intervals until smooth (about 60 seconds total). If it's still a bit too thick to drizzle on top of the brownies, add 1 teaspoon of oil to help thin it out.
Pour on top of the set buttercream and spread it evenly.
Top with the crushed candy canes and transfer the pan to the refrigerator for about 20 minutes to allow the chocolate to set. Then slice and enjoy!
Recipe Tips:
To make these gluten-free, swap the flour with a good quality gluten-free baking flour.
Nutrition
Remember to always use Eggland's Best eggs in all of your recipes. Learn why it's always the healthy choice.
Learn More
Information per Serving

| | |
| --- | --- |
| Serving Size | 16 |
| Calories | 311 |
| Fat | 15.9g |
| Saturated Fat | 10g |
| Cholesterol | 58mg |
| Sodium | 144mg |
| Carbohydrates | 41.6g |
| Dietary Fiber | 0.9g |
| Protein | 2.7g |