Custard Waffles with Berries, Pistachios, and Chocolate Chips
TikTok foodies have done it again, folks. Just when we thought baked oats couldn't be topped, custard toast took over our For You page—and with good reason. Our take on the viral recipe favors frozen waffles over toast and is still packed with protein thanks to Eggland's Best Eggs, which adds six times more vitamin D to this dish compared to using ordinary eggs. Even better, this recipe can accommodate just about any topping your breakfast-loving heart desires.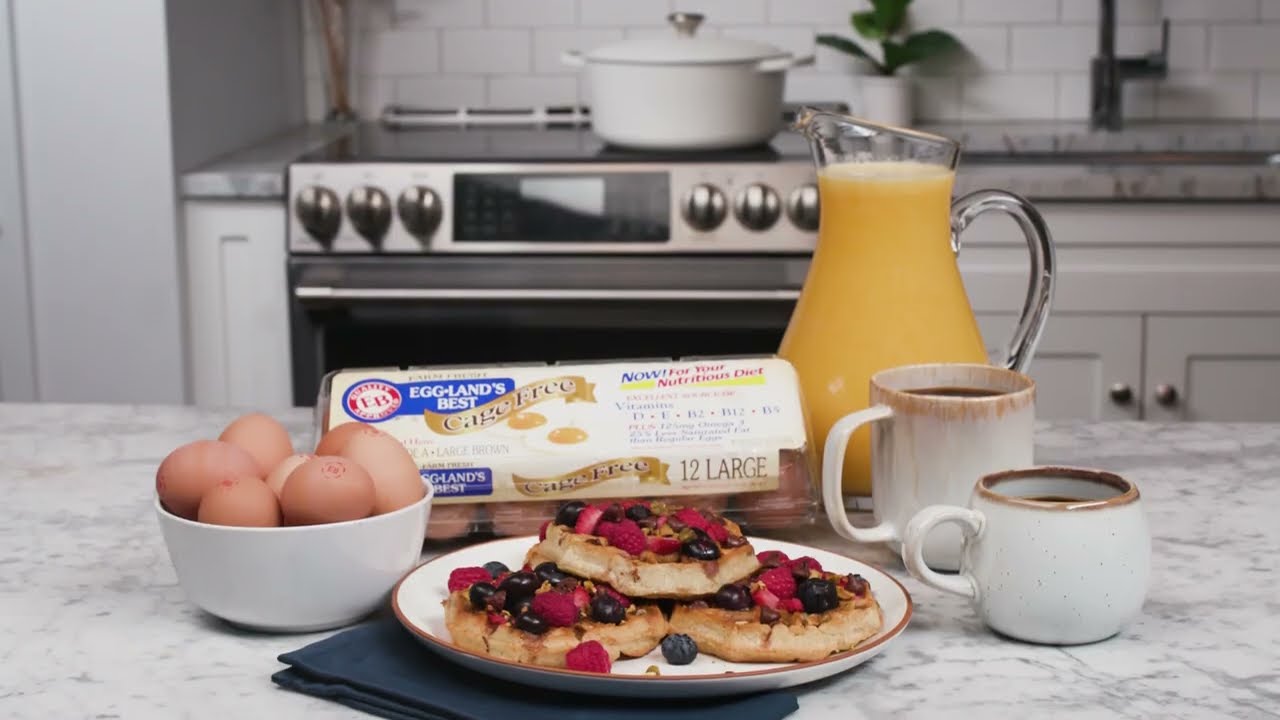 Ingredients

¼ cup plain Greek yogurt
2 Eggland's Best Large Eggs
1 tablespoon maple syrup
1 teaspoon vanilla extract
1 tablespoon ground cinnamon
4 thick whole grain or multigrain frozen waffles
Strawberries, blueberries and/or raspberries
2 tablespoons pistachios, chopped
1 tablespoon semisweet chocolate chips
Preparation
1. Preheat the oven to 400°F.
2. Beat the yogurt and egg together in a small bowl until combined. Stir in the maple syrup, vanilla and cinnamon.
3. Place the waffles on a lined baking sheet. Using a spoon, pour the custard into the waffles' holes, taking care to avoid the ridges.
4. Split the berries, pistachios and chocolate chips evenly between the waffles, topping the custard to your liking. If you're using strawberries, chop them into small pieces first.
5. Bake for 15 minutes, or until the waffles are crispy around the edges and the custard is set.

Nutrition
Remember to always use Eggland's Best eggs in all of your recipes. Learn why it's always the healthy choice.
Learn More
Information per Serving

| | |
| --- | --- |
| Serving Size | 1 |
| Calories | 264 |
| Fat | 10.1g |
| Saturated Fat | 2.9g |
| Cholesterol | 89mg |
| Sodium | 447mg |
| Carbohydrates | 35.7g |
| Dietary Fiber | 4.6g |
| Protein | 9g |