The classic French Croque Madame is the inspiration for the flavors in this delicious egg bake.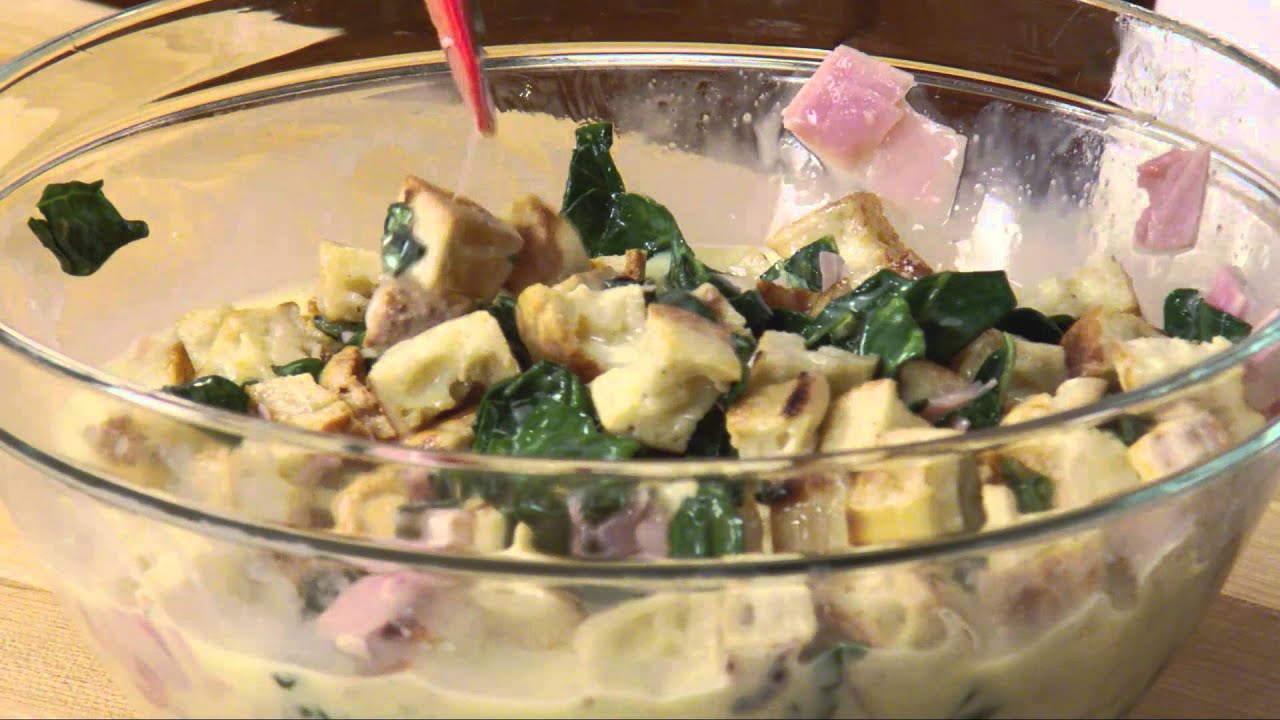 Ingredients
6 cups English muffin bread cubes
3 tablespoons Land O Lakes® Unsalted Butter, melted
4 cups coarsely chopped Swiss chard
3 cups milk
6 Eggland's Best Eggs (Large)
1 teaspoon country-style Dijon mustard
1/2 teaspoon salt
1/4 teaspoon pepper
6 ounces (about 1 1/2 cups) thinly sliced ham, chopped
Sauce
1 tablespoon Land O Lakes® Unsalted Butter
1 tablespoon all-purpose flour
1/4 teaspoon pepper
1 cup milk
1 tablespoon country-style Dijon mustard
2 ounces shredded Gruyere cheese
Preparation
Heat oven to 350ºF. Spray 2-quart baking dish with no-stick cooking spray; set aside.
Combine bread cubes and 2 tablespoons of melted butter in a bowl; toss to coat.
Spread in an even layer on baking sheet.
Bake, turning cubes halfway through, for 20 minutes or until cubes are crisp and beginning to brown.
Melt 1 tablespoon of butter in 10-inch skillet over medium heat until sizzling.
Add Swiss chard and cook for 5 minutes or until wilted. Remove from heat.
Combine 3 cups milk, eggs, 1 teaspoon mustard, 1/2 teaspoon salt and 1/4 teaspoon pepper in a bowl; beat with whisk.
Stir in toasted bread cubes, cooked Swiss chard and chopped ham.
Spread egg mixture into prepared baking dish.
Bake for 50-55 minutes or until knife inserted in the center comes out clean.
Melt 1 tablespoon butter in small saucepan over medium heat until sizzling.
Add flour and 1/4 teaspoon pepper; cook 2 minutes.
Stir in 1 cup milk and 1 tablespoon mustard with whisk. Cook until bubbly around edges and slightly thickened.
Remove from heat and stir in cheese until melted.
Pour sauce over serving of egg bake. Enjoy!
Nutrition
Remember to always use Eggland's Best eggs in all of your recipes. Learn why it's always the healthy choice.
Learn More
Information per Serving

| | |
| --- | --- |
| Serving Size | 1 serving |
| Calories | 248 |
| Fat | 18 g |
| Saturated Fat | 9 g |
| Cholesterol | 183 mg |
| Sodium | 612 mg |
| Carbohydrates | 8 g |
| Dietary Fiber | trace |
| Protein | 15 g |